How to Make Serious Money
from Healthy Coffee!      
Have you ever dreamed of running your own highly-profitable business?
What if you could earn money even when you're not working, leaving you more time to spend with your family and friends and the freedom to do whatever you want to do?
It is my pleasure to introduce you to Organo Gold – the coffee that pays!
The Coffee Industry
As you have probably noticed, the speciality coffee business is growing at a rapid rate. In fact in the last 20 years it has recoded double digit growth, even in times of war and recession! Not a single coffee chain failed during this time.  Other industries have not been so lucky!
Did you know that coffee is the second most consumed beverage on the planet after water and the second most traded commodity after oil? 
People drink coffee all day, everyday in almost every country around the world. Over 500 million cups of coffee are consumed in North America EVERY SINGLE DAY. That's equal to over 130% of the population.  Do you think the percentages would be similar in other countries?  Absolutely - and in many countries a lot higher!
Coffee is a way of life for most people – they cannot start or finish their day without it regardless of what they are doing. People may skip breakfast, but never their coffee in the morning. They drive their cars, travel on a train or bus and yes even ride their bicycle while drinking coffee.
What is the first thing that a person says when arranging to meet someone for a business or social get together?  How many meetings or functions are delayed until everyone gets a coffee? Having a coffee is absolutely ingrained into our daily activity and it's going to remain there!
The f
act is that people love their coffee and develop an emotional and often physical dependence on it. They must have it regardless of where they are or what they are doing. These are some of the reasons why coffee is the perfect product for a home based business.  Once people try our gourmet coffee they continue buying it month after month after month.
This means that that you can earn an income month after month after month. If fact our company pays us 7 different ways from weekly to monthly to quarterly.  This is a simple, easy and recession proof business!
Why Organo Gold
Organo Gold has developed a way to provide these millions of coffee drinkers with a great tasting healthier coffee.
Although coffee is our main product, we also offer teas, hot chocolate, nutraceuticals and personal care products (not all products are available in each market).
All our products are infused with an herb called Ganoderma Lucidum. Type "benefits of Ganoderma" into your favourite search engine to learn what western scientific research has discovered about this remarkable staple of Chinese medicine.
Organo Gold is a business that can begin as a part-time venture, provide a secondary income and evolve into a full-time profession that makes you more money than you've ever made before!
We are a multimillion $$$ coffee company and have an enviable distribution system operating in more than 30 countries. Our fast growing group of home based independent distributors keep rewriting the record books and are some of the top earners in the industry.
To find out more about the success of Organo Gold check out this short video.
Independent Distributors
We are currently experiencing unprecedented and exponential growth in all our markets. There are exciting opportunities for new distributors in your area who want to benefit from our proven business systems and create financial freedom for themselves.
People all across the world are earning money every week with our simple coffee and tea business.   And when I say simple I mean simple! Some people are able to retire from their jobs in as little as 12 – 18 months.  How is this when the economy is so bad for so many?  Well, because it's coffee and millions of people drink it multiple times a day.
We are looking for motivated people who want to make some serious money over the next 12-18 months. You can start this business part – time or full-time and become very successful with just a small investment in a Business Entry Kit and some coffee products.
Getting Started
Upon making a simple, logical decision to join us in this perfect home based business, you will be able to own your own gourmet coffee business without all the normal associated hassles and expenses that you would incur in a traditional coffee business. You will also discover that we work together as a team within this big company so you will be in business for yourself but not by yourself.
Remember, you can work from home, which can provide many financial and personal advantages.  It's a business where gender, age or education is no barrier.   
We have team members in all age groups who have been able to exceed their full – time incomes in as little as 12- 18 months and many nearing retirement who have developed a substantial passive income in a short time.
We offer first class training and support to help you build a successful business at your own pace, be it weeks, months or years, depending on your financial goals - no matter how big they may be.
To join this exciting business click here.
Once you have joined Organo Gold as an independent distributor by purchasing a Business Entry Kit for the ridiculously low cost of $50 you will receive:
Access to your own website for 12 months to enable you to manage your business (see sample here)

Distributor Binder

Brochures and Applications

Samples of our coffees and tea

Ability to purchase at wholesale prices

Access to online training courses 

Support from me and other team members to help you develop your business
Click here to join now! 
Timing
Someone that you know could very easily be making the decision to take advantage of this opportunity right now . . .So, get involved first and show them how they can change their coffee and change their life!
Imagine living a life of health, abundance and freedom.  Just imagine having access to products with the power of Ganoderma.  Imagine how huge the world-wide market for these products can be.
You don't want to be approached to join Organo Gold by one of your friends in a few weeks' time when you can get started now.
Further information
If you're excited by the opportunity to build a successful Organo Gold business but would like further information, please call me on +61 (0) 412 080 208, email me at shay@WealthForMe.com or check out some of the resources below
From the Ground to the Cup this video gives an overview of Organo gold and its successful growth to date.
OG Show this website has some presentations for the North American market and profiles of some leading independent distributors.   
Coffee Edge - my good friend Amy Sever has an Australian Business Presentation on her website for those of you who cannot attend a live Australian presentation. 
I'm really looking forward to working with you to develop your Organo Gold business and helping you to achieve your goals.  Please contact me if you have any further questions and to get some samples of our great coffee and tea products.
Best Regards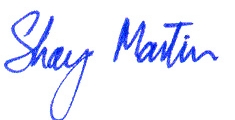 Seamus (Shay ) Martin
Independent Organo Gold Distributor
Tel: +61 (0) 412 08 02 08
Email shay@wealthforme.com
Organo Gold Website www.shayjo.organogold.com