Your Greatest Gift
is
The Gift of Giving
Can you remember a time when you gave someone an unexpected gift that they really appreciated!  How good did you feel!
We get so much satisfaction from helping others and the wealthier we are the more we can help.  I particularly like the following quote from Sir Winston Churchill
"We make a living by what we get; we make a life by what we give"
There are 3 main charities that I am proud to be able to support the first one is The Fred Hollows Foundation, the second is Kiva.org and the third is Youth Off The Streets.
The Fred Hollows Foundation is a not-for-profit, community-based, non-government development aid organization.  It works with blindness prevention agencies in Africa, Asia and The Pacific and to date has helped to restore the sight of more than 1,000,000 people worldwide. 
Kiva.org is a non-profit organization that is revolutionizing the fight against global poverty by enabling people to connect with and make personal loans –of as little as $US25- to low income entrepreneurs in the developing world.  Most of the poor in developing countries are self employed entrepreneurs and a small loan to purchase business related items such as sewing machines or livestock can empower them to earn their way out of poverty.
Youth Off The Streets supports chronically homeless and drug addicted young Australians as they work to turn their lives around.  Their goal is that these these young people will leave their care drug free, with a high school education, living skills and a full or part time job in hand.  Based on the philosophy that every young person has greatness within, their programs are non-denominational and non-discriminatory.
Even if you do not support the above charities, please ensure that you contribute to some form of charity as 'what goes around comes around' and you need to keep wealth circulating through the universe. 
You never know when you or one of your family members may need someone else's help.
Thanks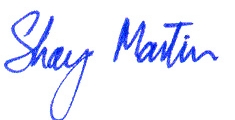 Shay Martin
CEO Wealth For Me