Business
If you want to be Rich
You need to have a Business
In order to be successful in business you should work in a business that has mass appeal, is in a growth sector and is one that you enjoy or at least feel comfortable with.  However, you don't have to really love what you're doing to be successful.  When considering a business opportunity I always found the following quote from Warren Buffett to be quite relevant:
'Things that you like to do should be a hobby of yours, but the things the world does should be a business of yours."
So what's the world looking for at the moment and what criteria should you use when starting a business - particularly if you want to start part time with low input costs!
The following are some of the major global business trends at the moment:
Home-based Business - people are fed up commuting (if they have a job); are looking for flexible working hours and want to spend more quality time with their families!

Health and Wellness - one of the fastest growing industries in the world due to the baby boomers looking to stay young and healthy!

Weight Loss - another booming industry driven by overeating and bad quality food!

Internet-based business - with its global reach and ease of transaction processing the internet has dramatically changed how we do business!

Coffee - yes that's right, coffee; notice how this recession proof product has driven the profits of McDonalds and other major fast food chains!
Smart business people are those who notice trends and position themselves to take advantage of them. If you are looking for opportunities to take advantage of these trends, please contact me urgently or check out the Business section of the Resources page. 
Now that you have identified a business, the next things you need to consider are the competition and cost of entry to the market.
Obviously if an industry is going through a boom, competition will be fierce and only those with deep pockets will be able to enter it successfully.  Franchising is an option but can be very expensive - up to $1 million in some cases!  However, the one thing that franchises do have that gives you a better chance of success is a system.  Having a system provides you with a proven methodology for operating a business.
However you need to be careful, as in many franchises, all you are doing is buying yourself a minimum paid job.  Many franchisees find that their employees can make more money than them and they get to go home after 40 hours per week whereas a franchisee can spend up to 80 hours per week working in the business.
For those of you who are looking for low entry opportunities, you need to look at the Direct Sales and Network Marketing industry.  This is now a multi-billion dollar industry and allows you to leverage your time through developing others.  Robert Kyosaki, one of the world's best authors on business, describes Network Marketing as a 'People Franchise', Warren Buffett owns a number of network marketing companies and Donald Trump has stated that if he lost all his money he would bounce back by operating a Network Marketing business.
Network Marketing is a method of distributing products and services that depends on independent distributors as opposed to retail outlets.  The beauty about Network Marketing is that you only have to build the network once and as people within your network consume products, you get a commission.
Network Marketing uses the old fashioned way of marketing - Word of Mouth!
Network Marketing has many advantages over traditional business:
You have unlimited income potential

Allows you to work from home

You set your own working hours

Allows you to be your own boss

Low start-up and ongoing costs

Provides travel opportunities

You choose the people that you want to work with

Provides great tax advantages

You become successful by helping others to be successful

Can generate residual income
There are many great network marketing companies; and new ones are springing up all the time.  When assessing which Network Marketing company is right for you, the following criteria should be used:
Product - are the products consumable and appealing to a large target market?

Compensation Plan - is there enough profit to ensure that the company prospers and you are fairly rewarded for your efforts?

Management - does the senior management team have experience in the Network Marketing industry?

Strong Financials - is the company on a sound financial footing?

System - is there a system for developing you and ensuring that you are successful?

 

 
To find out which Network Marketing company may be right for you, please contact me or check out the Business and Finance section of the Resources page.
Wising you every success.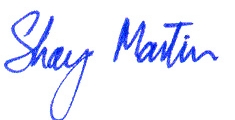 Shay Martin
CEO Wealth For Me